Shabbat Services
Friday – 7:00 PM
Shabbat Services are led either by Rabbi Larry Moldo or by lay leaders.
Coming Up
Wednesday, August 21 – 6:30 P.M. – Active Shooter Training.  The Cheyenne Police Department will discuss what to do if you find yourself in a mass shooting situation.
Thursday, August 22 – 11:30 AM to 1:30 PM – Library Open. Other times by request. Call Tim Solon, 632-4105
Thursday, August 22 – 6:30 P.M. – Shalom Dinner at Olive Garden Restaurant on Dell Range Blvd.
Friday, August 23 – 7 to 8 PM – Shabbat services  followed by Oneg sponsored by the Sisterhood.
Sunday, August 25 – 4 PM – Hadassah Book Group at Wendy Berelson's house in Laramie.  We will be discussing Henna House: A Novel by Nomi Eve.  Please contact Phyllis if you want a ride.
Thursday, August 29 – 11:30 AM to 1:30 PM – Library Open. Other times by request. Call Tim Solon, 632-4105
Friday, August 30 – .6 PM – Please join us for a Shabbat Dinner at Mt. Sinai.
Friday, August 30 – 7 to 8 PM – Shabbat services  followed by Oneg sponsored by the Sisterhood.
Once a week we send out a newsletter that includes events coming up, news about the synagogue, a column from the Rabbi, and more. Sign up and keep in touch!

Weekly Message from our Board President
It is a sad fact that we have to be prepared in case of a mass shooting.  There have been too many around the United States, including some at Synagogues, for us to ignore.  The Mt. Sinai Board of Directors has asked the Cheyenne Police Department for advice.  The police will be presenting a detailed program on what to do in an Active Shooter situation this Wednesday at 6:30 PM.  It's free, and will take place in the social hall of the Synagogue. 
The Mt. Sinai Sisterhood has donated $5000 to help pay for additional security at the Synagogue.  It is very appreciated and will be spent on improving our security.
Last week, the Board approved the suspension of Saturday morning services.  This means that Saturday morning services will happen on an irregular basis.  We will let you know ahead of time when they are scheduled.  But the Board also approved doing more with our Friday night services.  With the help of Sisterhood (thank you!) we will serve a meal before Shabbat services on Friday night, August 30.  The meal will start at 6, and services will start at 7.  We hope to start doing this on a monthly basis, but the 30th will be our first.  So join us for dinner, and then services!
The Jim McKinnon Food Drive has been extended until this Friday.  If you have food you would like to donate, please bring it by the Synagogue.
We have another new member of our Congregation!  Please say hello to Stephanie Smith White.  She is the granddaughter of Mildred Smith, who along with her husband Harry ran the Hitching Post Inn for many years.  The Smiths were strong supporters of Mt. Sinai, and Stephanie wants to carry on the family tradition.  Welcome, Stephanie!
Sisterhood is also welcoming some new folks.  They've been joined by Allison Baca, Denise Bendori, Michaela Loveland, and Susan Mervis.  Nice to have all of these new faces!
Our next Shalom Dinner is coming up soon – it's this Thursday at Olive Garden.  We'll meet at 6:30 and all go out to dinner together.
Our friends to the south at the Har Shalom congregation in Ft. Collins are greeting an old friend.  Rabbi Joe Black, who performed in concert at Mt. Sinai a few years ago, will be playing at Har Shalom on Sunday.  Har Shalom is at 725 West Drake Road in Ft. Collins.  Call them at 970-223-5191 to get tickets.
The High Holy Days are coming up, and that means our annual Journal will be published soon.  Here's a note about it:
Dear Friends of Mt. Sinai,
Greetings from Cheyenne! The New Year 5780 is rapidly approaching and the Bulletin Committee is gathering information for our " Mt. Sinai Sisterhood High Holyday Journal". This is a chance to send greetings to friends and loved ones, memorialize those no longer with us, update your simchas, add your news to share, and find out more about the other members of our Mt. Sinai family. You will also receive a schedule of holidays, festivals, and a current directory of the Cheyenne Jewish Community.
The rates are as follows:
    New Year Greetings . . . . . . . . . . . . . . . . . . . . . $12.00       
    In Honor of — first name . . . . . . . . . . . . . . . . . . $8.00
        Each Additional Name . . . . . . . . . . . . . . $2.00
    In Memory of  — first name . . . . . . . . . . . . . . . . $8.00
        Each Additional Name  . . . . . . . . . . . . . . $2.00   
    Vital Statistics Listing . . . . . . . . . . . . . . . . . . no charge
The Vital Statistics category includes life transitions such as Births, Bar and Bat Mitzvot, Engagements, Weddings, Graduations, Anniversaries, Special Honors, etc.
Please send your information and checks (payable to Mt. Sinai Sisterhood) no later than September 25th. You can also e-mail your information to: [email protected] With your help, we can pull together another journal. Thank you for your participation.  The Journal Committee wishes you and yours a new year full of good health and happiness.
Sheryl Cohen has cooked up a wonderful donation to the Mt. Sinai Library.  It's "1,000 Jewish Recipes" by Fay Levy.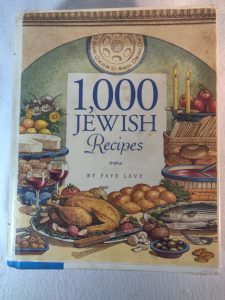 Now you have the perfect answer to "What's for dinner?"
Here's our Yiddish Phrase of the Week:
A shainer rainer dank!
Thank you so much!
It's also considered "A pretty, pure thank-you."
Shalom!
Dave Lerner
President
Mt. Sinai Board of Directors
Rabbi's Column
Some Not so Random, Random Jottings:
In other towns where I have worked, when there were local Jewish newspapers, there was usually a page with the synagogues listed and their service times. If they had a Rabbi and Cantor, services were always listed as being led by the Rabbi and Cantor – even when they were gone on vacation or at home for another reason. In our community we have the weekly newsletter, and it always lists services and Torah Study. In one sense this is always true, as everything one can learn about the world and oneself is a matter of Torah – and if one is approaching Tefillot with the appropriate intention (Kavvanah), then you are learning something new about yourself every week. In another sense, this may not always be true. One of the strengths of the Mount Sinai Congregation's community is that the leader does not have to be a carbon copy of any other person who leads. Sometimes, the tradition of the leader on a given Shabbat morning is that Torah Study as part of services is only done when there is a minyan. When there is no minyan, then Torah Study is done as an individual, at home.
When this happened recently, somebody complained that they were not told in advance. Advance notice of anything but musical enhancements of the service should not be expected, as the service structure here in Cheyenne has always been dependent upon the choice made by the leader for that particular morning. Ambiguity and uncertainty is what should be considered the norm – reflecting life in general. Tefillot are not an opportunity to escape life – they are an opportunity to see how well we are doing as partners with God in making the world a better place. (I will be saying a bit more about this during the High Holidays.)
Only one thing is certain. God gifts each of us with a life, and this gift is renewed every time we wake up and find an entire world around us. There are no guarantees about the quality or the length of the life that we are gifted. These are the realities that are reflected in the traditional ways of attaining God moments: Tefillot, Learning and Actively making the world a better place.
In Terry Pratchett's Discworld series, the importance of training in believing in the unseen is stressed. Children need to, for at least a while, think and feel that something like the Tooth Fairy exists. This is so that as adults they can think and feel that things like mercy and justice exist – for there is even less proof of those items than there is for the Tooth Fairy within a child's life. As he puts it – if I do not replace Santa Claus tonight then tomorrow the sun will not rise. A fiery globe of hot gas will be seen ascending over the horizon instead, and with it will disappear any thought of people behaving better than they do.
I forget if it was Pratchett or somebody else who had a character state, sometimes more than once: There is no justice. There is just us.
As Jews it is normative for us to say to this – yes, we agree and "just us" should strive to enable justice/mercy, for that is the job we have taken on as God's Junior Partners.
I do leave compassion to God. Everything that wakes up in the morning does so with God's help and compassion. If I were in charge, there might be some people and whole classes of critters that I might declare to be as necessary for today's world as the dinosaurs, and those critters could just stay gone.
May your week be filled with those delightful fictions – harmony, kindness and justice/mercy.
August Birthdays
4              Rosalyn Baker
4              Howard Gallensky
6              Ashley Ginsburg
6              Ali Weinstein
14           Jill Zarend-Peebles
15           Logan McLoud
16           Michael Rosenthal
18           Howard Schneider
20           Katie Lerner
22           Rose Levin
22           Warrie Means
24           Jenny Coelho
25           Tim Solon
27           Priscilla Golden
28           Babs Klein
31           Nate Breen
Mt. Sinai Movie Nights
All movies are shown at Mt. Sinai on the "big screen" and with surround sound. Refreshments and drinks provided. Come join us for any or all of our upcoming movies.