Shabbat Services
Friday – 7:00 PM
Shabbat Services are led either by Rabbi Larry Moldo or by lay leaders.
Coming Up
Wednesday, November 20 – 6:30 PM – Board Meeting. 
Thursday, November 21 – Noon – 1 PM – Torah Thursday is back!  Join us on Thursdays at noon as we look at the growth of Jacob's family with the help of Rashi, Sforno and Steinsaltz.  Feel free to bring your lunch!
Thursday, November 21– Noon to 2 PM – Library Open. Other times by request. Call Tim Solon, 632-4105.
Thursday, November 21 – 6:30 PM – Shalom Dinner at Applebee's on Dell Range.  
Friday, November 22 – 7 to 8 PM – Shabbat services followed by Oneg sponsored by the Sisterhood.  Services will include music.
Sunday, November 24 – Noon to 2 PM – Library Open. Other times by request. Call Tim Solon, 632-4105. 
Sunday, November 24 – 1:30 to  3 PM – Jewish & Israeli dancing  – new dancers are welcome! For more information contact Mary Weinstein.
Sunday, November 24 – 4 to 6 PM – Rescheduled Hadassah Wine and Chocolate event. Wendy Berelson's House, 1501 Hackney Dr. Laramie. Suggested donation: $20
Friday, November 29 – 7 to 8 PM – Shabbat services led by Rabbi Moldo followed by Oneg sponsored by the Sisterhood.  
Sunday, December 1 – 10 AM to 12 noon – Religious School.
Sunday, December 1 – 10 AM to 4 PM – See's Candy Sale opens!  
Sunday, December 1 – Noon to 2 PM – Library Open. Other times by request. Call Tim Solon, 632-4105. 
Sunday, December 1 – 1:30 to  3 PM – Jewish & Israeli dancing  – new dancers are welcome! For more information contact Mary Weinstein.
SAVE THE DATES:
Family Promise Volunteer Appreciation Dinner,on Tuesday, 12/3, 5:30 to 7:30 PM at Cheyenne Berean Church, 5716 Powderhouse Rd.  This annual event is one way Family Promise gives thanks to all of the volunteers who make this program possible.  Please RSVP to Phyllis by 11/25.  This will be a spaghetti dinner, vegetarian sauce will be available. 
Annual Congregational Meeting on Sunday, 12/8.  Join us for Brunch at 10 AM.  Meeting will start at 11 AM.
Once a week we send out a newsletter that includes events coming up, news about the synagogue, a column from the Rabbi, and more. Sign up and keep in touch!

Weekly Message from our Board President
Mazel Tov, Mazel Tov, Mazel Tov! Noam and Abby Mantaka had a baby boy over the weekend.  The baby is happy and healthy and the parents are thrilled.  The new arrival is named Aviv Yakov Mantaka.  His Bris will be tomorrow night (Tuesday, November 19) at 6:30.  It will take place in the home of Carol Fischer and Steve Borin at 2941 Thomas Road.  The Rabbi mentions it in his column today, including the fact that he is teaching at 6:30 and won't be able to arrive till 8:30.
Congratulations again to Noam and Abby, and welcome to Aviv Yakov Mantaka.  Should we set the date for his Bar Mitzvah now?
We can drink a toast to the newest member of the congregation at our Shalom Dinner.  The dinner will be this Thursday at Applebee's on Dell Range.  We'll make reservations for 6:30 P.M.
Last week, we announced that the Endowment Board was launching a new campaign to honor our elders in the congregation by sponsoring seats in the large sanctuary in their names.  The campaign is going to start December 1.  Therese Tikvah McKinnon thought that was a great idea, and immediately pledged to pay for a seat to honor Roz Baker.  Roz has been a lifetime member of the Synagogue and participated in many, many things over the years.  She was involved in the first Yiddish Food Festivals, and helped plan and organize the Synagogue centennial a few years back.
So Roz Baker will be our first recipient. In December, we'll be raising money to honor Marv Wolf with a seat.  He's another lifetime member who has served on the Board of Directors, as President of the Board, and currently heads up the Mt. Sinai Trust.
It costs $500 to sponsor a seat in the large Sanctuary.  An anonymous donor has offered to cover half that cost, as long as the seat uses the wording selected by the donor.  The wording is already in use in several existing seats.  If you'd like to use your own wording, you will have to sponsor the full amount.
The regular Hadassah Wine and Cheese Event had to be postponed because of bad weather (Welcome to Wyoming).  It's been rescheduled for this coming Sunday, November  24, from 4 to 6 PM (we hope the weather is a bit nicer…)  There will be wine and chocolate (hmm… what kind of wine goes with M&M's?).  The event takes place at Wendy Berelson's house in Laramie.  1501 Hackney Dr.in Laramie The suggested donation for Hadassah is $20.  RSVP'ing is optional, but you can call Wendy to say you're coming or get directions at 307-760-1613.
Sometime in the next couple of weeks a truck will pull up to the Synagogue, and begin unloading boxes and boxes of See's Candy.  The candy will be stored in the large sanctuary which is intentionally kept at a lower temperature.  Then on Sunday, December 1, the doors of the Synagogue will be opened and our annual See's Candy Sale will begin.  It will run Sunday through Thursday until Christmas.  This is a major fundraiser for Sisterhood and you could argue it's the best tasting one…
We have a note from the Mt. Sinai Library:
"Last Tuesday, the FBI released their annual hate crime report revealing that in 2018 assaults targeting Jews were at an all-time high.  Prize winning author Deborah Lipstadt, perhaps best known for "Denial: Holocaust History on Trial," had a book published earlier this year entitled "Anti-Antisemitism: Here and Now" detailing why she thinks the problem has increased.  Both books are in our library."
The Library is also receiving a couple of new donations this week.  One is the Jewish Family Living Shabbat Manual, published by the Women's League for Conservative Judaism.  The other is The Shabbat Amidah – with commentary by Jules Harlow and exercises by Roberta Osser Baum.  Both can be considered instructional books on how to celebrate Shabbat.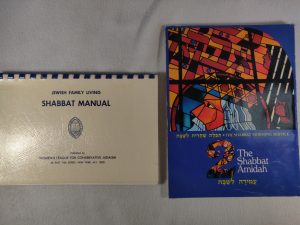 Here's our Yiddish Phrase of the Week:
Veren zol fun dir a blintshik, un di kats zol dich chapen.
May you turn into a blintz and be snatched by a cat.
Shalom!
Dave Lerner
President
Mt. Sinai Board of Directors
Rabbi's Column
People sometimes complain that Jewish holiday schedules are a bit confusing. I have discovered that for me, American holiday weekends are equally confusing. When I worked in December 2018 to schedule the 2019-2020 Religious School sessions, I used a couple of shortcuts. For example, the fourth Sunday in November I did not schedule any Religious School, but I did schedule it for the first Sunday in December. Most years, that shortcut works. This year, the fourth Sunday comes before the fourth Thursday. I'll see if I can remember to check for this the next time it shows up.
There is a party this week on Tuesday night to celebrate the birth, health and Brit Milah of Noam and Abby's son. While it starts about 6:30 p.m., I am teaching at that time, so I will not be there until around 8:30 p.m., bringing the celebrational pamphlet (which requires some audience participation) and naming certificate with me.  Mazal Tov to the whole family!
I was able to contact the Governor's office this week. The message I conveyed is that there is no single representative of the Jews in Wyoming. I do not represent all the Jews in the state, and neither does anyone else. I also suggested that if it works out, it might be better to go at different times to each community in Wyoming with Jews, and maybe go to Jewish events being run by the communities which are open to the general community.
As the season of slipperiness continues, please continue to be very careful and considerate.
November Birthdays
1              Marilyn Beeman
3              Jared Miller
4              Julie Breen
7              Ya'el McLoud
10           Roslyne Kaufman
11           Alan Wolf
14           Ruth Langley
25           Therese McKinnon
25           Stephanie Ehrlich
26           James Peebles
27           Phyllis Bloomberg
27           Nolan Rap
29           Lila Gallensky
Mt. Sinai Movie Nights
All movies are shown at Mt. Sinai on the "big screen" and with surround sound. Refreshments and drinks provided. Come join us for any or all of our upcoming movies.