Shabbat Services
Friday - 7:00 PM - Online through Zoom.
Shabbat Services are led by lay leaders.
Coming Up
Friday, August 6 – Shabbat services via Zoom. We'll open the meeting at 6:30 so people can chat. Services begin at 7:00. Zoom info: https://us02web.zoom.us/j/83627327018. Meeting ID: 836 2732 7018. Here's a link to the book we'll be using: – https://www.ccarnet.org/publications/mishkan-tfilah-for-shabbat/.
Monday, August 9 – 5:30 PM – Bibles and Beer via Zoom. Please email Rodger McDaniel at [email protected] so he can add you to the list of those sent the Zoom link each week.
Friday, August 13 – Shabbat services via Zoom and in person in the large sanctuary at the Synagogue, led by Rabbi Moshe Halfon. We'll open the Zoom meeting at 6:30 so people can chat. Services begin at 7:00, both in-person and via Zoom. Zoom info: https://us02web.zoom.us/j/83627327018. Meeting ID: 836 2732 7018. Here's a link to the book we'll be using: – https://www.ccarnet.org/publications/mishkan-tfilah-for-shabbat/.
Saturday, August 14 – Tentative – Shabbat services in person and via Zoom led by Rabbi Moshe Halfon.
Sunday, August 15 – Noon – (Tentative) – Welcoming picnic for Rabbi Moshe Halfon in the back yard of the Synagogue.
SAVE THE DATE:
Hadassah Book Group – We are excited to have picked as our next reading adventure Susan Mervis' book Zion's Bridge. Susan is a member at Mt Sinai in Cheyenne and well known to many of us. This is her first published work; congratulations Susan! We will meet August 22nd with further details to follow.
This is the link to Amazon's page https://www.amazon.com/Zions-Bridge-Susan-Grey/dp/B08YF4ZBVG/ref=sr_1_1?dchild=1&keywords=zion%27s+bridge+susan+grey&qid=1622560475&sr=8-1#customerReviews
and here is the short description: In the spring of 1933, Adolph Hitler has been in power for three months and radical changes have already transformed Germany; new laws restrict Jewish employment and atrocities abound. Leaks have led to a worldwide German boycott, which further cripples the Depression economy. Many Jews look to leave, only to find their assets frozen. With Germany 'encouraging ' Jews to leave, Chaim Arlosoroff,of the Jewish Executive Committee, suggests an audacious plan that intrigues the Reich and leads to a unique deal, a deal not all Jews agree with. The controversy grows. It's called a deal with the Devil, which leads to violence and ends in bloodshed. It does, however, rescue 60,000 German Jews.
Once a week we send out a newsletter that includes events coming up, news about the synagogue, and more. Sign up and keep in touch!

Weekly Message from the Board President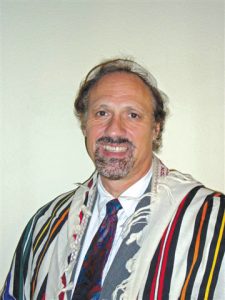 Welcome Rabbi Moshe Halfon!  Rabbi Halfon is the new Rabbi for Mt. Sinai Synagogue.  The Rabbi Search Committee and the Board of Directors conducted an international search, starting last November.  We received applicants from Europe and South America, as well as all over the United States.  The Rabbi Search Committee narrowed the pool of applicants, and the finalists conducted services and taught classes via Zoom.  It was a long search with dozens of applicants.
The Board of Directors has offered the job to Rabbi Moshe Halfon, and he has accepted.  Let's tell you a little bit about our new Rabbi.
Rabbi Halfon will be moving to Cheyenne from his current home in Long Beach, California.  For the past 15 years, he has served as the prison chaplain for the California Institution for Women, a women's prison.  He has been leading services and teaching classes there, and also trained 30 volunteers to do the same.  As part of his work there, he held fifteen conversions, ten adult B'not Mitzvah, and helped over 70 women to transition back to productive lives in the Jewish community.  
Here's more about the Rabbi, from his email introducing himself to Mt. Sinai:
"I grew up in the Reform movement, and was a youth group president, counselor, songleader, and music specialist at summer camps and youth programs in California, Oregon, and Israel.  During college, I studied in Israel and lived on several kibbutzim.  Those years set me on my spiritual path and equipped me to work with people of diverse backgrounds.  By the time I finished my BA in Jewish studies at UCLA, I was a well-known organizer, cantorial soloist, teacher, entertainer, and writer: I edited the Jewish student paper, ran many events, and founded the UCLA Bayit Jewish student residence (which still exists).  After several more years teaching and organizing, I found in the rabbinate a calling in which I could utilize these skills.  I am a "trans-denominational" or "client-centered" rabbi who is equally in Reform, Conservative, Reconstructionist, and traditional practice.   I have long been an innovator in Jewish spirituality, and I was among the first rabbis to integrate chant, meditation, healing, and Hasidic ideas into mainstream worship, and I continue to do so."
Rabbi Halfon will come to Cheyenne to lead services in person on Friday, August 13.  He may also lead Shabbat Services on Saturday morning, August 14.  He is working out the details with the Ritual and Liturgy committee.
The services will be held in the large sanctuary, but will also be broadcast over Zoom.
We have tentative plans to hold a welcoming picnic in the back yard of the Synagogue on Sunday, August 14, starting at noon.  You'll have the opportunity to talk with the Rabbi in person and get to know and he is eager to meet everyone in our community.
Rabbi Halfon will not be able to move to Cheyenne immediately.  He has to fill out the rest of his contract with the state of California.  The Rabbi will be coming to Cheyenne twice a month until he moves here permanently.  He will also be leading our High Holy Day services.
We are very excited to welcome Rabbi Halfon to Cheyenne and are looking forward to your meeting him and getting to know him.
Every month, the Endowment Board highlights an individual and honors them with a plaque on a chair in the large sanctuary.  For the month of August we want to honor someone you all know – Therese Tikvah McKinnon.
Tikvah has been working in our Synagogue office for years, and volunteers for many hours besides her paid work.  She's the cheerful voice at the end of the line when you call the Synagogue.  In addition to keeping our books straight and all of her office duties, Tikvah also answers questions from callers about the Synagogue, leads tours, and is frequently the first person people meet when they contact the Synagogue.
The chairs are $500 but an anonymous donor has offered to cover half that amount, so we need to raise $250 to get a chair for Tikvah.  If you would like to donate, please contact the Synagogue office or use our website.
Here's our Yiddish Phrase of the Week:
Host broit mit puter, iz der mazel a guter.
If you have bread and butter, you have good luck.
Shalom,
Dave Lerner
President
Mt. Sinai Board of Directors
August Birthdays
4              Rosalyn Baker
6              Ashley Ginsburg
                Ali Weinstein
13          Rick Wagner
14           Jill Zarend-Peebles
15           Logan McLoud
16           Michael Rosenthal
18           Howard Schneider
20           Katie Lerner
22           Warrie Means
24           Jenny Coelho
               Jacklyn Humphrey
25           Tim Solon
27           Priscilla Golden
28           Babs Klein
29          Chris Humphrey
31           Nate Breen