Shabbat Services
Friday - 7:00 PM - Online through Zoom.
Shabbat Services are led by lay leaders.
Rabbi Larry Moldo
After a lengthy illness, Rabbi Moldo passed away in August 2020.  The congregation mourns his passing.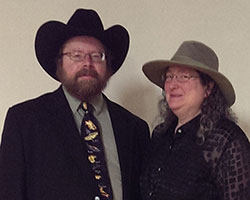 Rabbi Larry Moldo was born and raised on the Minneapolis side of the Twin Cities in Minnesota. After graduating from the University of Minnesota, he worked in Peoria (Illinois), Omaha (Nebraska), Kansas City (Kansas), Elmwood Park (New Jersey), Buffalo (New York), Modesto (California), Baldwin, (Long Island, New York) before coming to Mount Sinai Congregation here in Cheyenne, Wyoming.
Prior to Ordination at the Academy for Jewish Religion in New York City, Rabbi Larry had written materials on Torah notes and liturgy in the religious realm, and on management and tutoring in the secular world. As part of the Ordination process, he wrote for his senior thesis a large document called Unsuccessful Pregnancies and Neonatal Deaths: Pastoral Care for the Rabbinate and Cantorate.
An avid reader, he is especially fond of Science Fiction & Fantasy while dabbling in mysteries and philosophy for fun.
He is joined in Cheyenne by his wife Andrea. His son Samuel lives in Denver.
Rabbi-led Religious Programs 2020
Due to Rabbi Moldo's passing, there are no Rabbi-led Religious Programs scheduled.  Mt. Sinai is bringing in temporary religious leaders while we conduct a search for a new Rabbi.
Torah Tidbits and Rabbi Commentary